United Way India and Generation India launch Generation United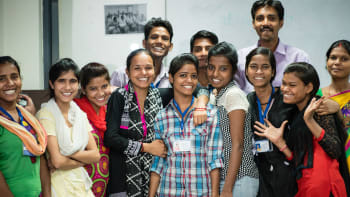 New program aims to train 2,900 students in healthcare and customer service in 2018
Generation India Foundation and United Way India brought together more than 50 leaders from the business, social, and government sectors at an event today to discuss challenges and solutions in youth skilling and employability. Speakers included S Ramadorai, former Chairman of National Skills Development Authority; Naina Lal Kidwai, former Chairman of HSBC India; Sunil Mehta, Board member of United Way India and Non-Executive Chairman of Punjab National Bank; Anita Rajan, COO-TATA Strive & VP-TATA Sustainability Group; Anami Roy, Founder of Vandana Foundation and Ex-DGP Maharashtra; Atul Satija, CEO of Give India and Founder of The Nudge Foundation; Mona Mourshed, President and Global Head of Generation; and Rajat Gupta, Director of Generation India Foundation.
The two NGOs have joined forces to launch a new skilling initiative called Generation United. In the first year, Generation United will train 2,900 students in healthcare and customer service professions in India. These students will join a Generation alumni network of more than 4,600 students.
"Youth Unemployment is one of the biggest issues that India is currently battling with. United Way of India, through this partnership with Generation India Foundation, is attempting to address the issue, by providing thousands of Indian Youth access to skills, leading to meaningful employment," said Sunit Mehra, Chairman, United Way of India.
"Generation is thrilled to be partnering with United Way India to bring skills and jobs to thousands more young people," said Generation President and CEO Mona Mourshed. "We look forward to implementing the Generation approach hand-in-hand with United Way."
Generation has established a strong track record of success in India by providing career launching jobs to 4,600 youth leading to annual income generation of USD 2M. On average, graduates make four times the income after Generation than they did before. 74% of graduates secured jobs within 90 days of completing the program and 65% of these graduates continue to be with the same organization after 3 months which is approximately twice the industry outcomes at present. Generation has been able to establish clear ROI for employers. If a Generation graduate is retained in a job for 12 months, they can save USD 1000-1500 annually, thereby, positively impacting the employer's profitability by 0.3 to 0.5 percentage points.
"In just three years of global operations, Generation has expanded to 21 professions in 60+ cities across five countries—India, Kenya, Mexico, Spain and the USA—with its 16,000 graduates making it the largest demand-driven employment program in the world. Generation has developed a methodology to accurately identify the right candidates for the available jobs and to provide crucial emotional support to the candidates in their first formal job. We work closely with our employer partners to influence and improve their work place practices through data analysis, qualitative inputs of mentors and students," said Rajat Gupta, Program Director for Generation India. "Generation United is an exciting new program that brings together our proven approach to skilling to the large network that United Way India has built across the country over 8 years. I am confident that we will not only achieve our goals in 2018, but that we are putting in place the foundation for a program of unprecedented scale and impact."
Generation United, like all Generation programs, will be built on partnership—not just between Generation India Foundation and United Way India but with many other local and national implementation and employer partners as well.
Participants in the Generation program complete an intensive 4 to 12-week "bootcamp-style" program that integrates technical training along with behavioral and mindset skills, which helps students prepare to overcome both workplace and personal challenges. After completing the program successfully, students are guaranteed job interviews with employer partners, like Portea, Shangri La, Taj Group who have already committed to interview Generation United graduates.
Generation United will be available in seven locations: Delhi, Hyderabad, Chennai, Bangalore, Mumbai, Baroda, and Kolkata. Interested partners or employers can learn more by visiting generation.org/india or write to generationindia@generation.org.