Generation India bestowed with the prestigious Mahatma Award for Quality Education 2022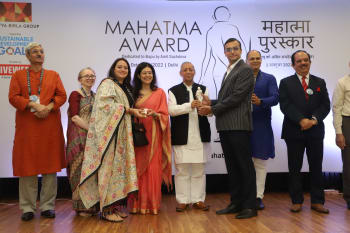 Mahatma Award, recognized as the highest honor for social impact leaders and change makers has bequeathed Generation India with the Mahatma Award for Quality Education 2022.
Generation India Foundation has created a significant impact in the lives of thousands of young individuals by tackling the issue of non-employability among large sections of youth, who have little or no job-relevant skills. The work Generation does primarily aligns with SDG 4 on Quality Education. The impact of the organization contributes to target 4.4, which is to significantly increase the number of youth and adults with relevant skills, including technical and vocational skills, for employment, decent jobs, and entrepreneurship.
"Being acknowledged by the Mahatma Award makes us extremely proud. This award is a testament to the dedication, hard work, and collaboration of all our stakeholders who have worked relentlessly to empower and emancipate our country's marginalized and disadvantaged youth. The holistic 7-Step Generation Methodology has a well-established job role and sector agnostic approach to skilling, that we ensure is diligently adhered to, leading higher placements for our learners" said Arunesh Singh, CEO, Generation India Foundation.
Generation India trains, places and supports learners into high-demand job roles such as Retail Sales Associate, Customer Care Executive, F&B Steward, Hospital Front Desk Executive and Tech roles such as Jr. Full Stack Java Developer and AWS Cloud Support Practitioner. Generation India has trained and supported 26,000+ learners (58% women) across 100+ cities and aspires to contribute towards an accelerated employment recovery by supporting 30,000 learners (15,000 women) through Project AMBER, a joint initiative of the National Skill Development Corporation (NSDC) and Generation India Foundation (GIF) under the aegis of the Ministry of Skill Development and Entrepreneurship (MSDE)