AMBER: an ambitious skilling project to train 30,000 learners in India over a period of two years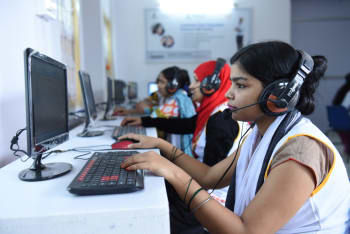 Project AMBER (Accelerated Mission for Better Employment and Retention) has now launched as a joint initiative of National Skill Development Corporation (NSDC) and Generation India Foundation (GIF), under the aegis of the Ministry of Skill Development and Entrepreneurship (MSDE), that aims to empower the youth of India, by providing them the right knowledge and vocational skills. A scalable and sustainable model of skill development that supports inclusive growth and development to ensure better outcomes and institutional strengthening in India.
This project is co-funded by MSDE (under SANKALP program) and private philanthropy and aims to train 30,000 youth, 50% of whom will be women. The training will be conducted in Pradhan Mantri Kaushal Kendra (PMKKs) across 70 districts, in post-COVID resilient job roles. Generation's holistic 7-step approach will be utilized to drive higher quality skilling, improved employment, and retention outcomes.
The aim is to have a much higher placement and retention rate than prevalent programs so that skilling becomes relevant for learners and prepares them for resilient job roles in a post-COVID economy. Identified COVID-Resilient Sectors & Job roles for this project include – General Duty Assistant, Jr. Full Stack Developer, Retail Sales Associate, Customer Service Executive, Sewing Machine Operator, Hospital Front Desk Executive (HDFE), Solar PV Installer, Food & Beverage Steward. The job roles will be launched over a period of two years.
To learn more visit https://www.projectamber.org./